As I've mentioned before, I'm currently training to run the London Marathon, which is now less than four weeks away!
Because of that I've been doing a lot of running. A lot of running. More running than I've ever really done before. It's quite hard to stress how much running I've actually been doing. This is my first marathon and it's a lot more running than I've ever done before.
One thing people (people who have done marathons before) have consistently said is that marathon training plans are designed to make sure you can (and do) keep running, even when tired. I've also heard that a marathon is really like running for 20 miles and then running a 6 mile race on top of that. Either way, the aim is to get used to running on tired legs and then running a bit more. I've definitely felt that over the last couple of weeks.
I'm currently in to week 13 of my training plan. I've just passed the longest run of 21 miles, although I still have a 20 mile long run this weekend. I thought that having passed the longest run, it would get easier now, but the blue line in the graph below shows that it actually levels out for a couple of weeks before the taper before the race.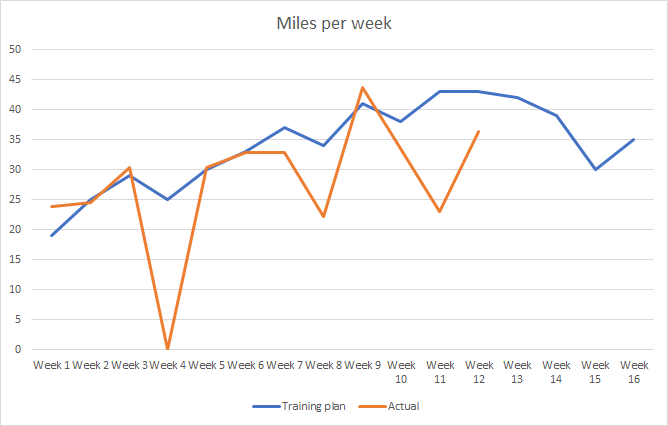 We're now in week 13 and I've felt that I've been doing a pretty good job of keeping up with the training plan, although looking at the chart, there are a lot of weeks where I've not been doing the mileage recommended.
Here's why I think that is:
I don't always run the suggested distance. I've been trying to get to my running club twice a week and their group running sessions haven't always matched up with what the program suggests. However, the group sessions are normally comparable in effort/training benefit and so I just go with those.
I don't always do every run. Each weekend in the training plan has a 3 mile run on the Saturday and a longer run on the Sunday. However, I don't always have the capacity to fit in two runs on a weekend, so I prioritise the long run and sometimes miss out the 3 mile run.
I don't always do the warm-up/cool-down. It's probably quite bad, but I don't always do them. And sometimes I do, but I don't record it (or all of it) on my GPS watch.
I sometimes go walking. There's a big drop in my running distance in weeks 4 and 11. In those weeks I walked 63 miles (in three days) and 79 miles (in five days) respectively. Whilst not running, I do feel that this sufficiently keeps the legs tired and hasn't interfered with my training plan that much.
So, all in all, I feel like it's actually all going really well. Although I am definitely getting tired of running and looking forward to when it's all over! And there's not that long to go now!