Here's what happened to me today: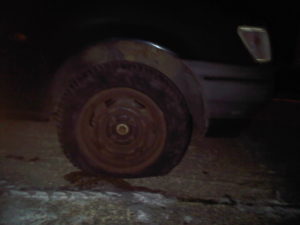 It happened about a mile away from my house. At first I wasn't sure what had happened but then the noise/shaking got worse and so did the steering. I wasn't sure if it was going to make it all the way home, but I did (just).
My housemate and I tried to fix it, but the bolts were too tight so I had to call out the breakdown people (for the second time in [Edit:] two three weeks).
I do however now need to buy a replacement tyre since my spare is rusty and apparently its not a good idea to drive a mile on a flat tyre (destroying my old one). The question is: Do I buy just one tyre, or a whole set of four (at about £25 each)? Any thoughts?