I know nobody reads my posts about my mobile phone, but someone someday somewhere may find this useful (if that's you, do say hi) so I thought I'd post this.
About a month ago, my Samsung Galaxy S10 Lite got the "One UI 3.0" update. At the same time, my phone stopped connecting to the mobile data network. It could still make phone calls and texts, but whenever it wasn't connected to wi-fi I couldn't access any internet data. Weirdly it did still sometimes connect to mobile data, but this was unpredictable and was somewhere between a few minutes or several hours later (if at all).

I searched the internet but couldn't find anyone else who had this problem. I tried turning the mobile data setting on and off, resetting the network connections and clearing the caches. I even wiped my whole phone and reinstalled everything, but still I couldn't get it to connect to mobile data.
I phoned up the Three helpline and they just guided me through the steps I had already done. The one thing I hadn't done was to try my SIM card in a different phone. In the meantime, they would send me out a new SIM card.
I duly tested my SIM card in an old phone and unsurprisingly it worked fine. I had a strong feeling that a replacement SIM card wouldn't fix the problem but I waited for it to arrive.
It still didn't work with the replacement SIM card, but I went into the SIM card manager and noticed that "Mobile data" was turned off at this point. And setting the option to "SIM 1" fixed my problem!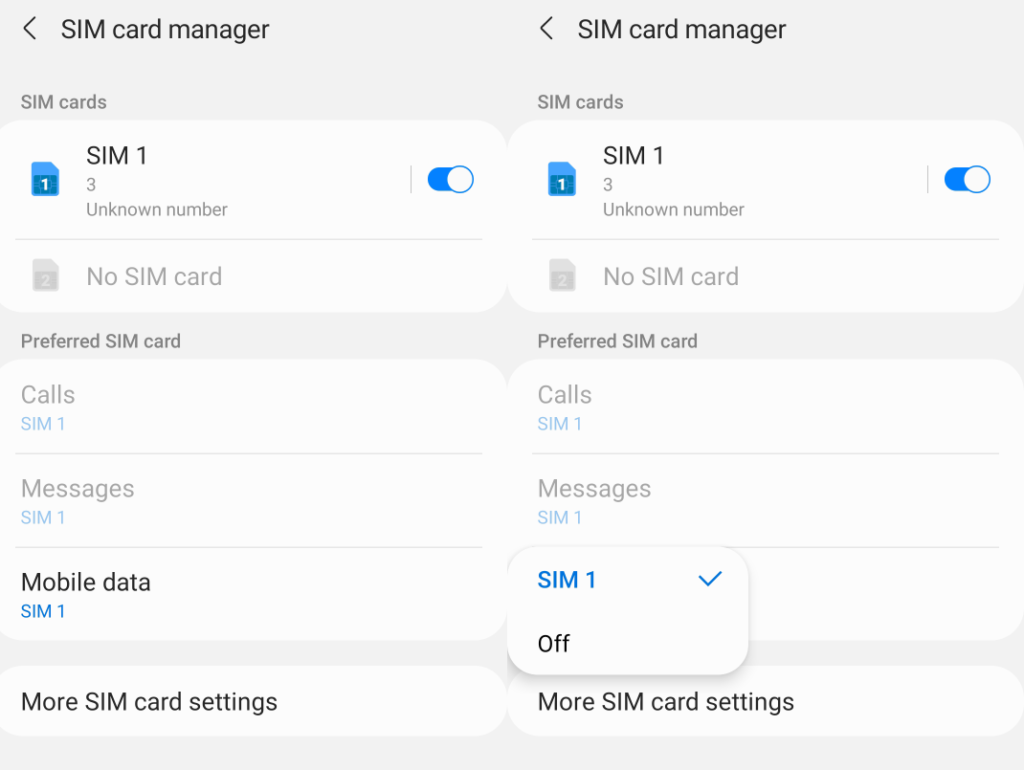 I was going to blog about how this seemed to be a separate, hidden "Mobile data" switch at the SIM card level to the one at the system level, but I've not been able to replicate this at all. Every time I turn off one, the other turns off too and vice versa. Was this not happening before? I don't know. Was the SIM card setting somehow stuck in the off position? I don't know. Did the new SIM card help? Probably, even if only because it meant I looked in the SIM card manager settings. Does my phone mobile data work again now? Yes.
So if you have a problem with your mobile data, the SIM card manager may be the place to look. But it also may not be. Because I don't even know if that was the problem, but after four weeks trying lots of different things it's now working again.