Last weekend I visited my brother in Aberdeen. The city has currently been taken over by wild dolphins as part of a charity event.
Over the 3 days we saw 28 different dolphins (out of 50). There was a special app for keeping track of found dolphins although we didn't discover this until the second day so the first three dolphins weren't officially counted. Here's our progress within the app: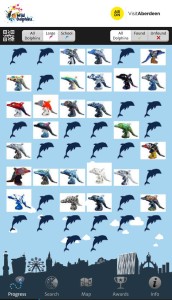 My favourite was probably Spiderdolphin, mainly because it wasn't there and was obviously off fighting crime (and not being repaired like claimed). I also like The Great Wave at Aberdeen as it looks like it's about to jump straight back into the North Sea.
Here's one photo of each of the dolphins we saw: