Hi, remember me?
---
Despite living in London, until last weekend, I had never ridden a Boris bike. The main reason for this is that it costs £2 for the use per day, though the first 30 minutes are free (and then £2/thirty minutes thereafter). Fortunately this year is the 5th anniversary of the scheme, and last weekend the £2 access charge was removed.
My plan was to follow one of TfL's suggested routes 'Quirky London'.
It wasn't a great start to the adventure when my train into London Bridge was delayed because a lorry got stuck under a bridge further down the line. (Yes, the same thing happened on the same line last year.)
Boris bike: Hop Exchange, The Borough to West Smithfield Rotunda, Farringdon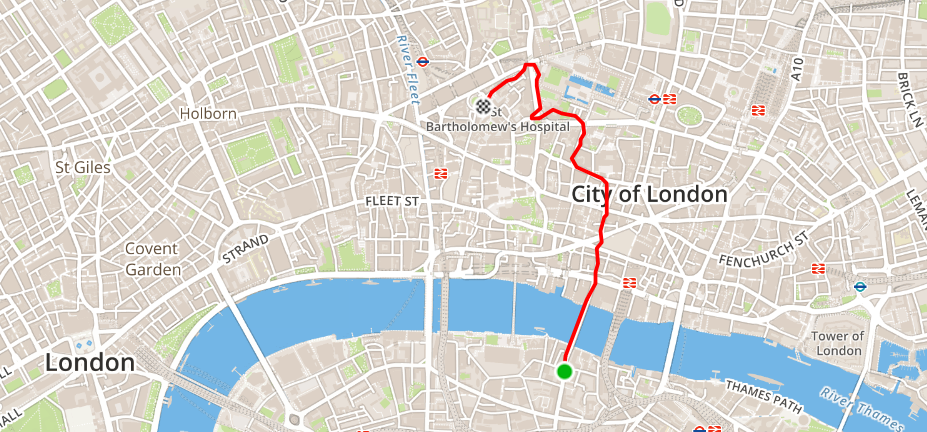 I planned to break half way round to visit the Barts Pathology Museum which was having a rare open day. Unfortunately, because it was so rare, it was also very popular. As interested as I was in seeing Victorian body parts, there was a 90 minute wait to get in, and I didn't want to queue on such a warm day. Instead I decided to jump on the tube to continue the adventure.
Underground (Hammersmith & City): Farringdon to Mile End
At Mile End, I discovered the main problem with the app on my phone. Since my phone doesn't let android apps access the maps functionality, there was no way of finding the nearest docking station. I had to do the old method of finding a physical map and comparing the local docking station names (which I could see) with the actual street names.
Boris bike: Clinton Road, Mile End to Alpha Grove, Millwall
Once I had found a bike, I set off south through Mile End Park along the Regent's Canal before coming out at the River Thames.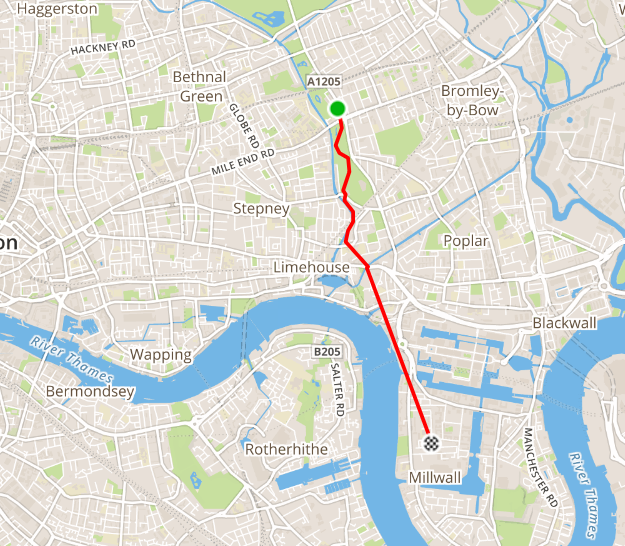 However stopping to take photos (including trying to take
one of myself
on a Boris bike) took time, and I realised I had five minutes to get to a docking station or exceed the free 30 minute limit. Not having a clue where to go, and not wanting to spend £2, I sped off in the direction of where I hoped I would find one. I was sure there must be loads in the area, but where were they all? None on the main road anyway. My watch was passing through the 29 minutes stage now and I was beginning to wonder if would find a docking station in time. Should I just keep the bike for a whole extra half hour and make the most of the £2, or try to return the bike now, paying £2 for a fraction over the 30 minutes. Should I risk a side road? Yes, there's one! I docked the bike at 30 minutes and 20 seconds (by my watch) and the light flashed green, but that was all they can do. I quickly opened the app, heart pounding. Journey time: 31 minutes. Charge: £0.00. That was a relief. Obviously there's some flexibility.
On foot: Around the Isle of Dogs
I then set off through the back streets of the Isle of Dogs towards Canary Wharf to find my next bike.

I then arrived at South Quay East docking station, opened the app, clicked hire a bike, got an activation code and went to the bike to check one out. Red light. Type it in again. Nope, red light. Huh? Turns out I've selected South Quay West docking station. Not only is that in the other direction to where I want to go, it turns out it's currently suspended. Ok. So I'll try and get another code for this docking station then. "You must wait 10 minutes before requesting another code." That's annoying.
The map at South Quay East shows another docking station, Churchill Place, in the direction of where I'm trying to get to, so I head off in that direction. Then I come across another docking station, Montgomery Square, that wasn't on the map at all. But since I still have another 6 minutes to wait, I continue walking. After a few minutes of searching, I finally find Churchill Place docking station and am greeted by: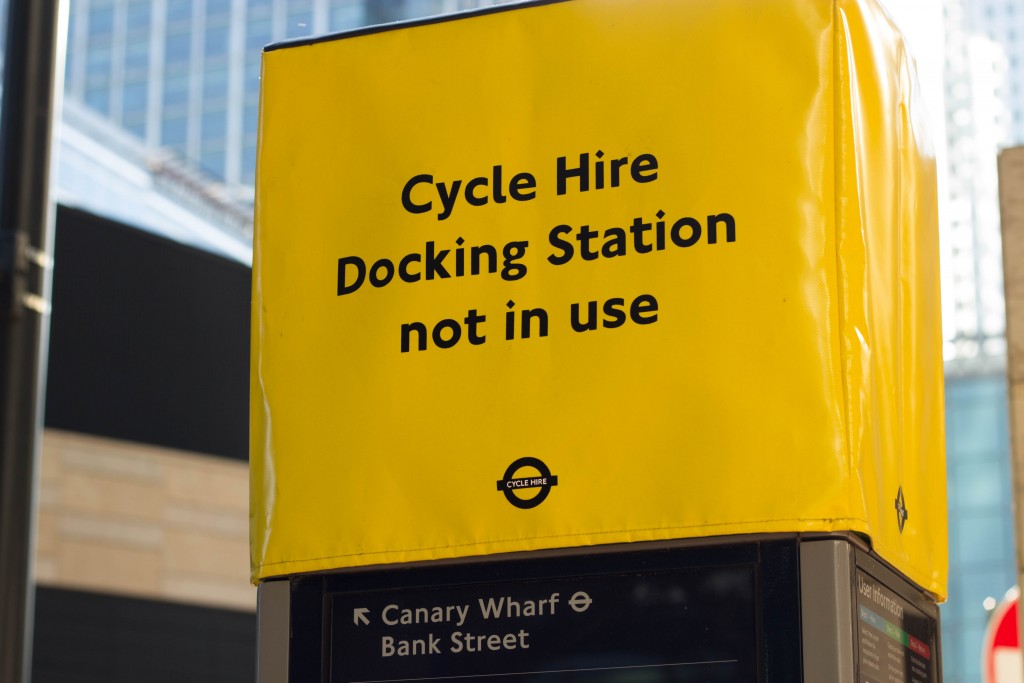 Since this is one of the last docking stations along this stretch of road, I'm forced to go back to Montgomery Square where I'm finally able to get my third bike of the day.
Boris bike: Montgomery Square, Canary Wharf to Stebondale Street, Cubitt Town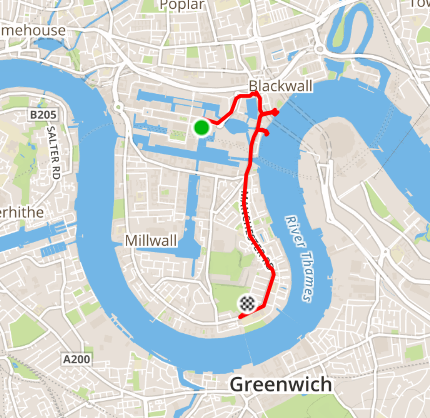 This cycle is the most straight forward of the cycling legs as I was simply planning to get to the most southerly part of the Isle of Dogs at Island Gardens to get the DLR home. I was trying to follow the Thames Path round but after two failed attempts to get to edge of the land, I gave up and just followed the main road which I knew led exactly where I wanted to go (I was turning off
too early
). On one of these detours, I had to go down (and back up) a few steps, and the bikes are surprisingly heavy although I'm sure they are designed for precisely this reason. Which handily brings me on to…
Reasons why I probably won't hire one again (aka why I should just use my own bike):
– They are too slow. The top gear (of three) is very low and combined with the weight, it's hard to get up to anything fast. Although it is more relaxing.
– The 30 minutes of free usage. It's probably alright for someone who knows exactly where they want to go and can make their journey in that time (e.g. a commuter). It's probably alright for someone who wants to bimble around but also doesn't mind spending lots of money if they go over (e.g. a tourist). I was somewhere in between the two.
– Oh, and that £2 access charge I mentioned at the start.
---
Also, I've now started to upload photos to my flickr account. I'll be putting some photos here which won't always make it onto the blog. If you have a look now, there's a sneak peek at what's coming next time. (Hint: We're going back in time, both literally and figuratively.)