Welcome to my 100th blog post!
They've not always been the most interesting reads, but this is a quantity milestone, not a quality milestone (not sure how that one would be measured anyway).
Although since this blog has been going for almost 11 years, maybe it's surprising I've not got to this point sooner. This blog started strongly in March 2010 before dying away and being restarted in July 2014 (I did originally archive off the old blog and start again from scratch, but early last year I brought them all back into one place). And then early on in lockdown last year I started blogging every week which leads us to where we are today (with almost half of my posts having been in the last year).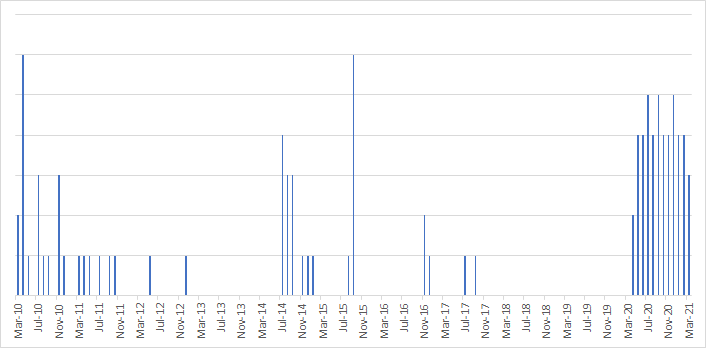 My stats only go back to 2014 and won't include people who only access via RSS, but unsurprisingly visitors are mostly from the UK and the USA. But I've also had visitors (I know there's VPNs and so on, but this is what the stats tracker says) from Brazil, Canada, Italy, China, Germany, France, Ireland, Spain, Mexico, Portugal, Russia, India, Australia, Argentina, Sweden, Ecuador, Greece, Netherlands, Colombia, Romania, Chile, Philippines, Peru, Switzerland, Israel, Poland, Norway, Malaysia, Nigeria, European Union, Thailand, Bermuda, Slovenia, Czech Republic, Saudi Arabia, South Korea, Algeria, Indonesia, Venezuela, Dominican Republic, Belgium, Croatia, Serbia, Trinidad & Tobago, Austria, Hong Kong, South Africa, Taiwan, Uruguay, Denmark, Estonia, Honduras, Georgia, Costa Rica, Bolivia, Turkey, Kenya, El Salvador, Jamaica, Uganda, Ukraine, Angola, Cyprus, Bosnia & Herzegovina, Bulgaria, Egypt, Japan, Hungary, Pakistan, Iceland, Bangladesh, New Caledonia, Cape Verde, Morocco, Guyana, Macedonia, Moldova, Cambodia, St. Vincent & Grenadines, Mauritius, Qatar, Albania, Iraq, Sri Lanka, Puerto Rico, Gibraltar, Jordan, Luxembourg, Panama, Guatemala, United Arab Emirates, and Vietnam.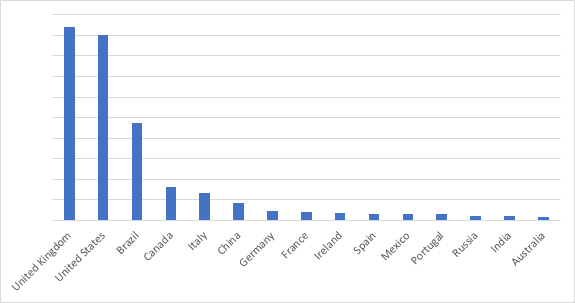 I don't know anyone from most of those countries so have no idea whether it's a reporting error or whether people have deliberately (or just accidently) come across my blog. But you're all very welcome. Please do say hello if you are reading.
I can't promise the next 100 posts will be interesting, but for the moment I will keep trying to think of something new to write each week. Here's to 200 posts!